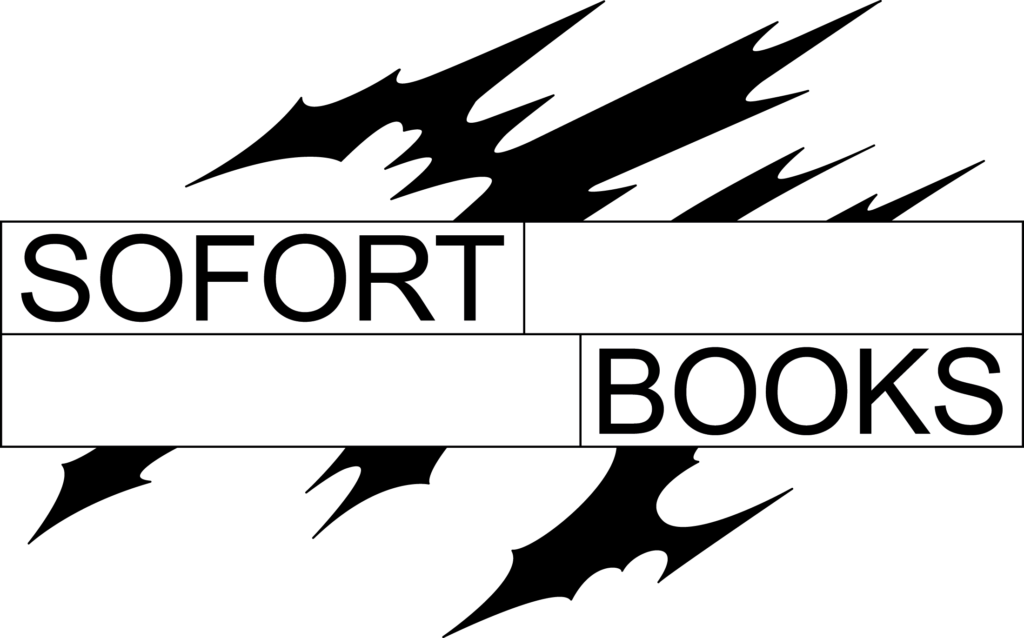 Time never meant much, it's a matter of urgency and narrative.

About
SofortBooks is a Hamburg-based publisher.
SB-003 (October, 2023)
Das Phantom by Jenny Schäfer

SB-002 (March, 2023)
Moshpit ABC by Louise Vind Nielsen

SB-001 (August, 2022)
Import Export 2 by Richard Klippfeld
Das Phantom - Jenny Schäfer
In »Das Phantom«, Jenny Schäfer invites us into an in-between world: not fully comprehensible or tactile, yet there; a place to inhabit, beyond a fully alienated reality. In SB-003, Jenny Schäfer documents three visits to Disneyland Paris. The first visit (1993) was her father's idea. He is the initial fan, as Disneyland's quasi egalitarian use of all senses and the subtitled animated films were almost casually accessible for people with a disability. In subsequent visits in 2011 and 2021, Jenny captures her Disneyland impressions on camera. One time, for example, she circles the park grounds and documents its outer perimeters. Over the years, Jenny remains a fan, if ambivalent. By now, she visits with her own child.
In this tapestry tightly interwoven with the private and personal, we mainly see images of facades and built scenery. From the middle of SofortBooks' third issue, Elif Akyüz' text contribution "The most pleasurable of all possible worlds" unfolds, illuminating the phenomenon and person Disney, as well as the historical developments, and then-current philosophical thought on emerging cinema and mass entertainment, the pure commercialism of the postwar world, and the dazzling stories of capitalism.
However, the photos framing the text bluntly show: every facade is a fragile system, and as such prone to cracks and tearing. SB-003 takes a look at these complex structures and refrains from dismissing them a priori as superficial. Rather, any shopping mall must be considered as an entirely human site: build by humans, put to use, and used by humans. Disneyland, after all, is not fantasy, but a real place, with real humans, and real desires.
As we struggle to manifest this kind of place as something beyond reaffirming capitalism, we keep pondering the question: Is it possible to conceive of our wishes and desires as something real, no matter how ghostly, phantom-like they appear to us in this world? Even if we only perceive them through a distorted reflection, do they perhaps after all mirror a true longing, the one for the best of all worlds?
On the back side of Elif Akyüz' text, in between the in-between worlds of Jenny Schäfer, a pattern unfolds and refolds. Mandy Knospe's angry four-fold fist sucker-punches us straight into the next dimension.
SB-003
Das Phantom
Jenny Schäfer

Published October, 2023
Edition of 105 (Zine) + 15 (Edition)
Zine
Riso printed in Moss and Bisque
40 pages + 8 page fold-out
200x285mm
Numbered
Photo Print
Fine Art Print
210x300mm
Fuji Crystal Archive DP II
Numbered & signed by the artist
Moshpit ABC - Louise Vind Nielsen
In Moshpit ABC, Louise Vind Nielsen explores the phenomenon of the moshpit—blurry, wild, and chaotic as it may seem—through a very clean and orderly structure: the alphabet. A is for Anarchy, B is for Break Something, C is for Care. Next to a collection of personal anecdotes ("It's the first part of my autobiography", the author explains to us half joking, half serious), we find lyrics, quotes from novels, theoretical texts, movies, and also more ephemeral messages like writings on the wall of a loo in a squatted house. They function as starting points into the nuances of a (sub)cultural practice which remains never fully graspable as either/or. Louise takes us with her into "the pit" and becomes a relentless narrator: at times funny, at others philosophical, always casually honest.

SB-002
Moshpit ABC
Louise Vind Nielsen

Published March, 2023
Edition of 50 (Zine) + 50 (Edition)
Zine
Riso printed in Fluo Orange and Orange
40 pages
170x120mm
Numbered
Poster
Riso printed in Orange & Black
A2 on Fedrigoni Arena Natural Rough 120g
Import Export 2 - Richard Klippfeld
SofortBooks' 1st release is by Viennese artist Richard Klippfeld.
»Import Export 2« erscheint unregelmäßig und beinhaltet Zeichnungen, Fotos, Memes, Scans, Kopien, Screenshots, Textfragmente und Müll aus dem Archiv von Richard Klippfeld.
Ziel der Reihe ist es, Teile des Archivs einer breiteren Öffentlichkeit niederschwellig zugänglich zu machen und durch die Möglichkeiten der fotografischen Reproduktion Unterschiede, Gemeinsamkeiten und neue Bedeutungszusammenhänge zwischen den Objekte herauszuarbeiten.
Organisiert in der sequentiellen Logik der Doppelseite innerhalb einer Publikation, bilden diese die Grundlage für neue Arbeiten und die Erweiterung einer zeichnerischen Praxis.
SB-001
Import Export 2
Richard Klippfeld

Published August, 2022
Edition of 20 + 40
Riso printed in Burgundy
16 pages

Numbered